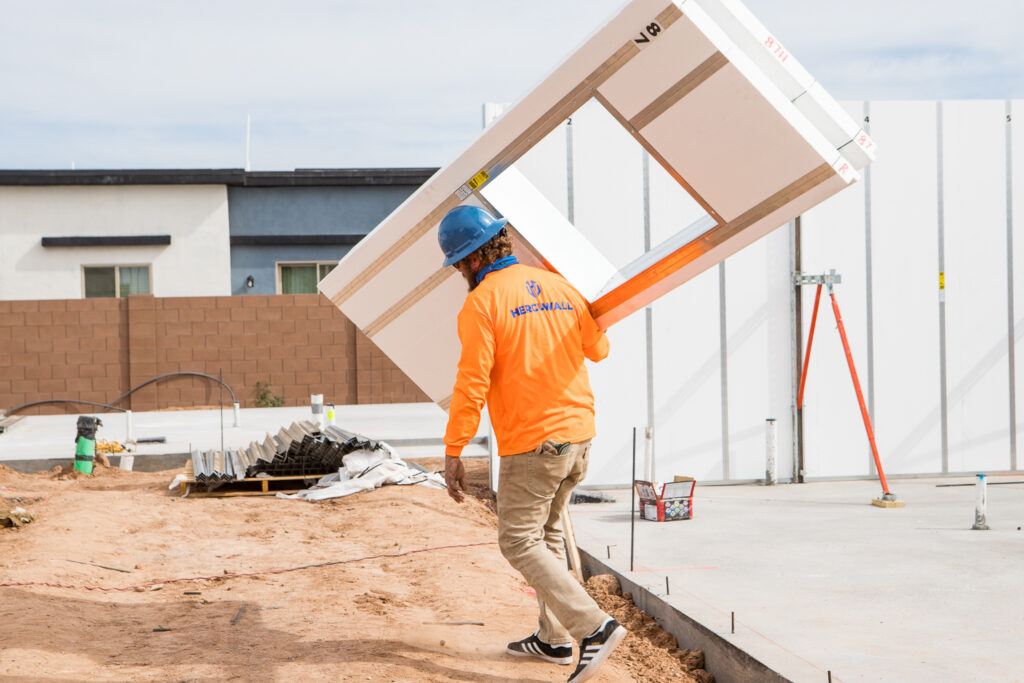 Construction is changing, and builders are looking for better ways. This is the very reason why Tempe-based HercuTech delivers a solution with their innovative product, HercuWall™, an ICC-certified panelized exterior and demising wall system technology that is disrupting construction.
HercuWall is comprised of four common materials – made of insulating foam, reinforced with a patented steel ShearStrip, laminated with a weather-resistant barrier, and followed by site integrated concrete. HercuWall™ is cost efficient and light enough to be carried by one installer but is three-times stronger than wood. A HercuWall unit goes up panel by panel, in numerical order, and can be stood up in an hour and a half. This factory fresh, panelized solution is the only viable system solving the labor, material, and building cycle challenges in construction, and even surpasses current and future building codes and ESG standards.
HercuTech is leading the way when it comes to free training, teaching the trades how to install and interact with the HercuWall™ system through its HercuFit University training program.
"HercuWall outperforms traditional building materials in every attribute, is capital efficient, and readily scalable. That's why the industry is teaming with HercuTech to build better." said HercuTech CEO, Jason Rhees. "We believe this game-changing, sustainable technology will forever change how single-family homes and multi-family communities are built. We are confident that as consumers continue to learn about the energy-saving, healthier living, and life-safety attributes of HercuWall, they will come to expect it."
The benefits of HercuWall extend far beyond the construction process, providing residents a superior living experience. A HercuWall home is airtight with greater insulation and energy efficiency. Residents will enjoy lower energy bills, a quieter environment, and healthier air quality. HercuWall is fire-resistant and hurricane rated up to 235mph winds, providing a peace of mind that traditional lumber cannot.
HercuWall is an eco-conscious building material focused on putting the "E" in ESG (Environmental, Social, and Governance). HercuWall replaces up to 60% of the wood in a project, is manufactured sustainably, recycles 99% of scrap material, produces no onsite construction waste, decreases the carbon footprint of a project, increases energy efficiency up to 40%, and results in longer-lasting structures.
"HercuWall provides a competitive advantage for Investors, Developers, Designers, GC's, Trades and Property Management groups to differentiate themselves. Completed projects are recognizing the benefits with above industry average retention rates, and better performing communities. HercuTech is recognizing explosive growth and market adoption in the build-for-rent space, specifically given the tremendous success we have had in Arizona," said HercuTech CEO, Jason Rhees. "We focus on creating partnerships with like-minded customers that are fundamentally committed to building better.  Our partners have a local, regional and national footprint, providing expansion opportunities in attractive markets across the country."
HercuWall™ has already been used in more than 500 units in multi-family, with a staggering 7,000 units in the design phase for roll out in 2022-2023 throughout the state, including Anthem, Apache Junction, Casa Grande, Goodyear, Maricopa, Mesa, Phoenix, Prescott, Queen Creek, Surprise, and Tucson.
Communities That Currently Feature HercuWall™ Include:
Paragon Development Group's Hampton East, Hampton East 2, Hampton Meridian, and Hampton Edison
BB Living's Eastmark
GTIS' Tavalo at Cadence
Isola's Peralta Vista, Greer Ranch, and Goodyear
El Dorado Holding's EVR Porter
MODUS' Arcadia View Lofts
Bela Flor's Bella Encanta
Harvard Investment's FirstStreet at BallPark
DSW's Morning Vista and River One
Capital Development Group's The Park at Three Point, The Park at Thumb Butte, The Park at Prescott Valley, and The Park at Palm Desert
For more information on HercuTech or HercuWall™ visit www.hercutech.com or call 480.284.4535.